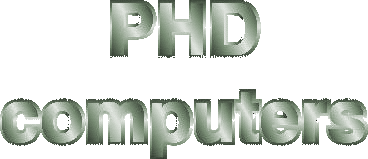 About Us Updates Home Contact Us Remote Support

About PHD Computers,
PHD Computers was started in 1994 with the idea of helping people purchase the "right" computer. Not the cheapest or the most expensive, but the system that people could afford that would fit their needs. We help individual people as well as companies with all of your computer needs. PHD can build and service almost any system or requirement that you have, from home office systems to Servers with 300 nodes active at the same time. We have configured Operating systems from SCO Unix, Linux, Red Hat, NT 4.0 BackOffice, Small Business Server, MS Server 2000, MS Server 2003, MS Server 2010 and all Novell OS's. PHD stands behind our work with a guarantee that if we can't fix it, we can't charge you for the service call. PHD implements direct Internet connections, WAN's, LAN's, Intranet's, mail drops among other services. While PHD Computers is small in size our ability to serve you is BIG!
Timothy R Trace
Owner PHD Computers
PHD Computers 856-694-2511